DISCOVER | Online Intermediate
This is an annotated list of online reading and listening sources that are appropriate for intermediate English learners. Some sources on the Advanced Online page may also be appropriate for intermediate learners.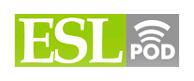 ESL Podcast – If I could recommend only one online source for English learners, it would be the ESL Podcast. The Podcast provides English learners with everything they need to significantly improve their English. The Podcast is created and produced by Dr. Jeff McQuillan and Dr. Lucy Tse, who are recognized experts on language development.
Each podcast begins with a short conversation at slow speed. After the conversation, Jeff clearly explains the ideas and language used in the podcast. Finally, the conversation is repeated at normal speed.
Two days a week, the podcasts cover subjects related to life in the United States – daily life, business, entertainment, health/medicine, relationships, shopping, etc. Once a week, in the English Café, Jeff answers listeners' questions about English and life in the United States.
I strongly encourage listeners to subscribe to the ESL Podcast Learning Guide that accompanies each podcast. The Learning Guide contains definitions for some of the words in the podcast, a short article about American culture, and a complete transcript (text copy) of the podcast.
Several times a week, Jeff and Lucy write interesting articles and answer questions from listeners on the ESL Podcast Blog.
If English learners make the ESL Podcast part of their regular schedule, they will receive the two things they need most: hours of understandable English and knowledge about life in the United States, which helps make the English language understandable. Both are necessary for language development.

VOA Special English – Every day, the Voice of America (VOA) produces easy-to-understand (Special) English news stories and special features for English learners. You can read and listen to them on your computer or download them to your iPod or mp3 player. The stories include current news as well as special features on life in the U.S., science, education, health, famous Americans, and American history.
American Stories – One special feature that you'll find on the VOA Special English web site is their collection of American Stories. These are popular short stories by well-known American writers.
You can also subscribe to the VOA Learning English Video Podcasts or watch them on your computer.

California Distance Learning Project – The California Distance Learning Project (CDLP) provides another way for English learners to read and listen to hours of good, understandable English and learn about life in the U.S.
The CDLP includes a large collection of stories on a variety of topics – working, law & government, family, school, health & safety, housing, money, science & technology, services, going places, and nature. The stories come from television stations in California.
Here is how I would suggest using the CDLP web site:
Choose a topic from the top of the home page.
Choose a story from the Story List.
Read and listen to the Basic Story. There is a Listen button at the bottom of the story page.
Go the Activities page and answer the Pick an Answer questions. If you answered 60% correctly, go to #6; if you got less than 60%, go to #5
Read and listen to the Basic Story again, then return to #4
Return to the Basic Story, click on Full Story; read and listen to the Full Story.
Go to the Activities page and answer the What Did You Learn? questions. If you answered 60% or more correctly, congratulations!
Go to Write an Answer and try using the English you have learned.
A good answer will include:
Your answer in one sentence.
Additional sentences that give explanations, examples, and reasons to support your first sentence.

Marvel Comics – Reading comics is a good way to improve your English. They are interesting, fun, and the pictures help you understand the words. Almost all of Marvel's comics are now available in digital form so you can read them on your computer. There's only one problem: you have to subscribe to them. Fortunately, they don't cost very much, and they may be a very good investment for English learners.